R5 GPS
No more boundaries.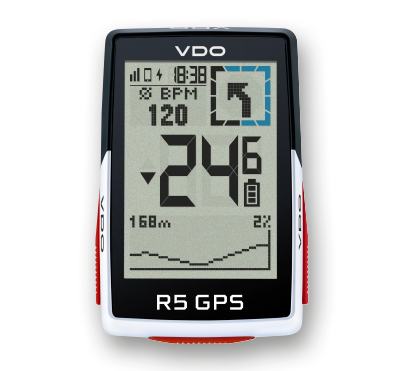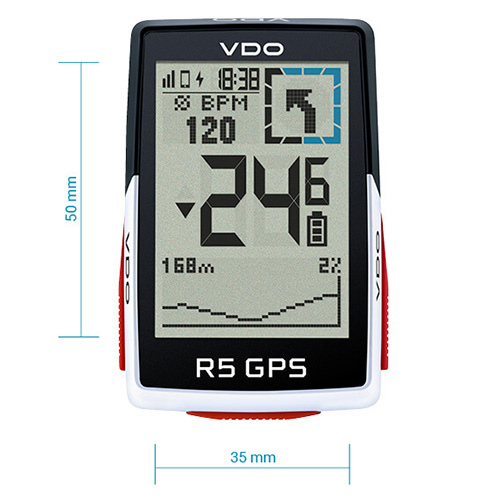 LARGE DISPLAY
The 2.4-inch-diagonal high-contrast display and extra-large numbers make it easy to read, even during a ride.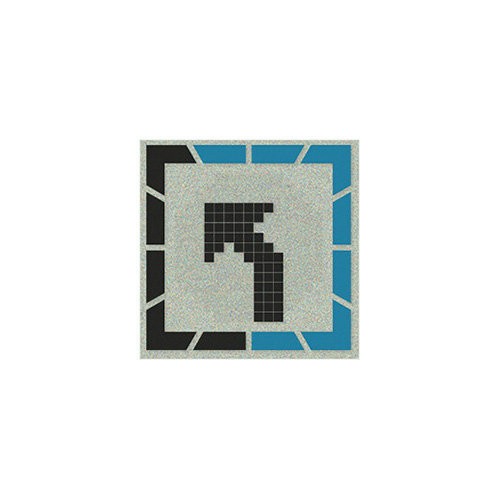 blue square
The innovative Blue Square on the upper right corner of the display is highlighted in various colours and offers innovative, interesting display of training data.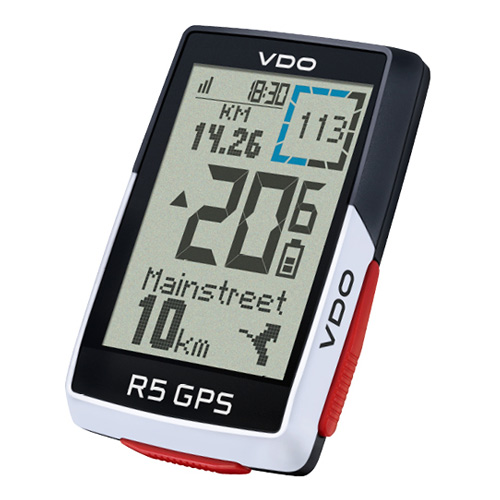 EVERYTHING AT A GLANCE
The SIGMA RIDE app allows you to set your display view individually. You can set up to six views, each with three values. Current speed and time are shown continuously on the display.

READY TO GO ANY TIME!
The R5 GPS bike computer can be positioned directly on the handlebars in a few easy steps – entirely without cables or sensors. If you want, you can connect your R5 GPS to additional sensors for measuring speed, heart rate, and cadence.
Your R5 GPS uses GPS and GLONASS to determine your position within a few seconds of being switched on. The user-friendly operation with three buttons enables you to start a bike tour right away. You can use the SIGMA RIDE app to set your individual display views.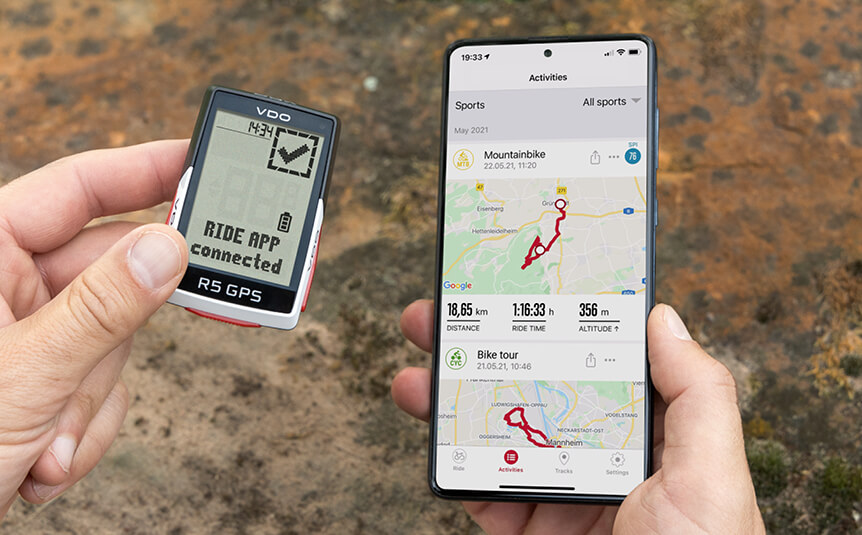 FOR DATA COLLECTORS
You can use the SIGMA RIDE app to collect your training data, transfer them to your smart phone via BLE, and quickly set your favourite display views on your smart phone. The most important data and statistics can be read from your smart phone in real time with the SIGMA RIDE app's LIVE function and assessed conveniently.

Intelligent navigation functions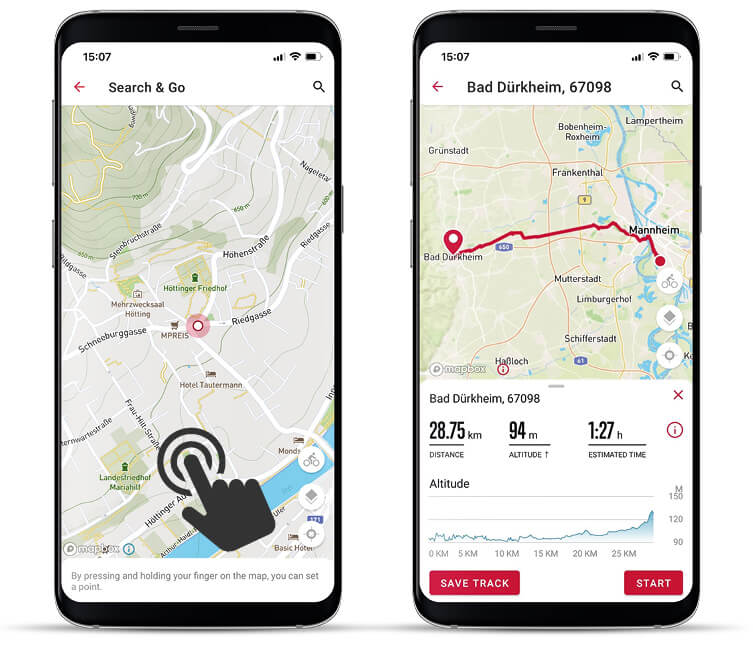 SEARCH & GO
"Search & Go" navigation allows you to find a specific location and navigate there. You can enter an address into the SIGMA RIDE app on your smart phone or click on a point on the map. Trail preferences (bike trails, dirt roads, paved roads, and running/hiking trails) can be set individually. The track thus created can be started directly on your R5 GPS or saved in the SIGMA RIDE app for later.
Tracks from third parties
The track navigation allows you to precisely ride a planned route. To do this, create a track in the SIGMA DATA CENTER or with a tour portal of your choice (komoot, Strava, etc.) and import it into the SIGMA RIDE app. You can then start your tour in the app and ride it right away or save it and start it later on your bike computer. This allows you to navigate your tour without a connection to your smart phone.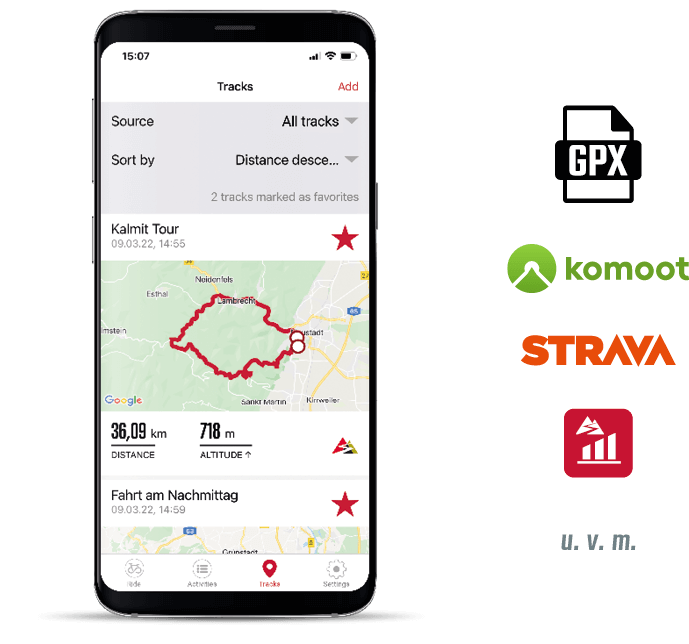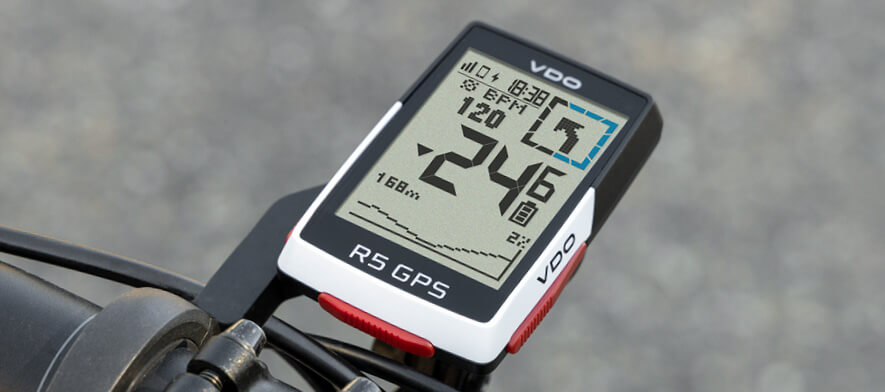 Turn-by-turn navigation
During navigation, the track and turn-by-turn directions are shown on the R5 GPS display. A turn arrow and an acoustic signal tell you when to turn next. To make absolutely sure that you don't miss any path, the blue square shows the distance to the next turn-off as coloured bars that get shorter as the turn-off gets nearer. The R5 GPS also shows the street name. If you leave the track, the R5 GPS sends you a notification and displays the shortest route back to it. The track view zooms automatically with your speed so that you are never surprised by a curve. If you leave the track, the zoom level is increased automatically so that you can always see the track and find your way back to it quickly.

UP WHERE THE AIR IS CLEAR
A true highlight of the R5 GPS is the integrated air pressure sensor. It uses barometric readings to determine inclines and declines and provide you with reliable information about altitude, allowing a precise recording of your track. You can also call up a graphical altitude profile on the R5 GPS. The home altitude at the beginning of the tour is determined automatically from GPS, or you can set altitude manually.

BEST MEASUREMENTS
Do you need more data or even greater accuracy for your values? ANT+ and BLE enable you to connect external sensors such as speed, heart rate, and cadence sensors to your R5 GPS.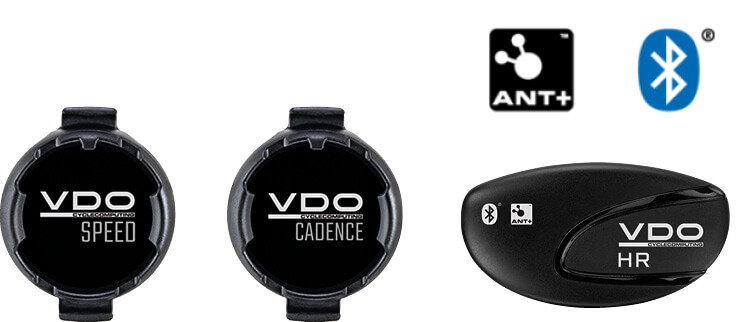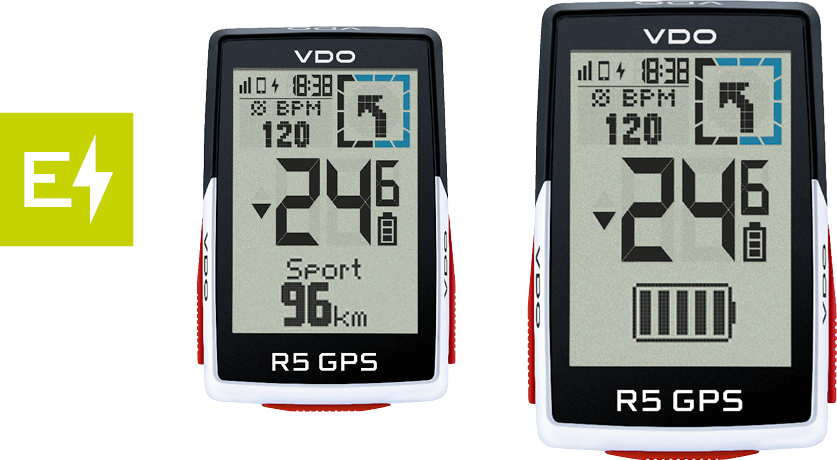 E-BIKE READY
You ride an e-bike? No problem. The R5 GPS is e-bike-ready and can be easily connected to many e-bikes. Your GPS bike computer establishes a connection to the compatible e-bike system and shows you the current assist mode, battery status, and light and other data on the display. You can use this list to find out if your E-BIKE is compatible with the R5 GPS.
SMART FunCtionS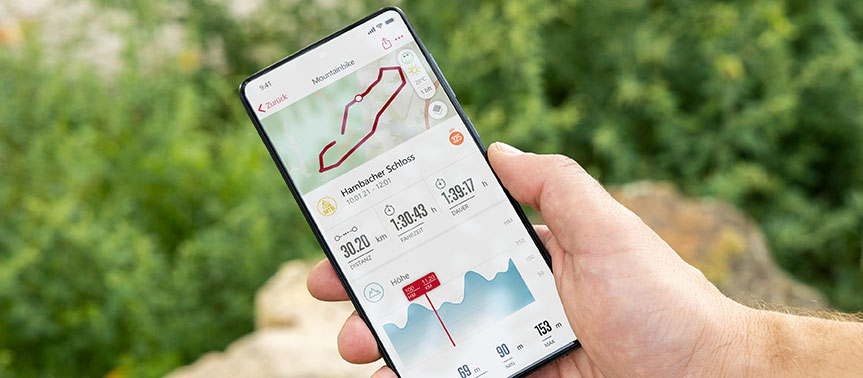 BE THERE LIVE
Record your data with your bike computer and analyse them right away with the SIGMA RIDE app's LIVE view. You can set your individual display views extremely easily while you're riding.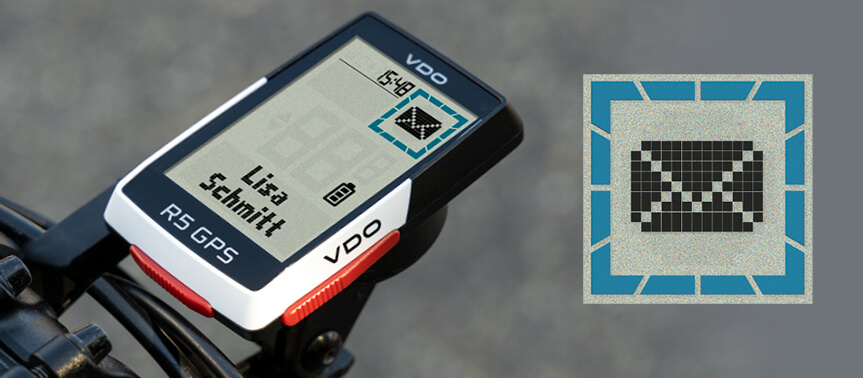 STAY TUNED
Smart notifications connect you to the outside world even when you're riding. Notifications of incoming calls and messages to your smart phone appear on your display.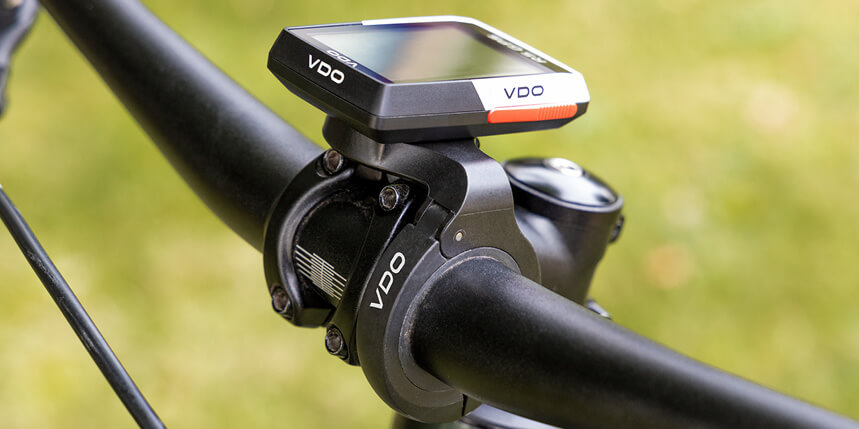 the OVER CLAMP BUTLER
The Over Clamp Butler lets you align your R5 GPS bike computer perfectly, even when using a short stem. The computer can be positioned directly over the stem, giving you more space on your handlebars and a clear view of all of your data, no matter what bike you're riding. The Butler fits on 31.8mm and 35mm diameter handlebars.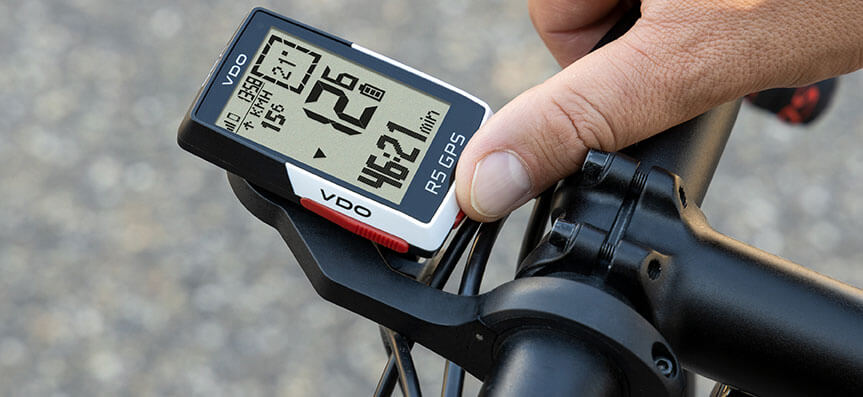 THE LONG BUTLER
The Long Butler has more distance from the handlebars and promotes an athletic posture. You can mount it on handlebars with diameters of 25.4 and 31.8 mm in a few easy steps and use a screw to secure it against theft. The Long Butler is available in our online shop as an accessory.
Features & functions
WORKOUT – BASIC FUNCTIONS
| | |
| --- | --- |
| Speed | |
| Average speed | |
| Calories | |
| Clock | |
| Comparison of current and maximum speed | |
| Distance | |
| Max. speed | |
| Ride time | |
| SIGMA Performance Index | (SIGMA RIDE App) |
| Total distance | |
WORKOUT – ALTITUDE MEASUREMENT
| | |
| --- | --- |
| Altitude graph | |
| Altitude uphill | |
| Current altitude | |
| Gradient (in %) | |
| Max. altitude/Min. altitude | |
| Total altitude uphill | |
WORKOUT – CADENCE FUNCTIONS
| | |
| --- | --- |
| Average cadence | |
| Cadence | |
| Max. cadence | |
WORKOUT – HEART RATE FUNCTIONS
| | |
| --- | --- |
| Average heart rate | |
| Current heart rate | |
| Intensity zones | |
| Max. heart rate | |
| max. heart rate % | |
WORKOUT – E-BIKE FUNCTIONS
| | |
| --- | --- |
| Gear Indicator | |
| Human power vs. motor power | |
| Light | |
| Range/e-bike battery | |
| Support level | |
WORKOUT - STATUS FUNCTIONS
| | |
| --- | --- |
| Compass | |
| Current temperature | |
GENERAL
Weight

54 g

Adjustable start altitude
Automatic start/stop unlimited
Automatic pairing
Available languages

DE-EN-FR-IT-ES-NL-PL

Backlight
Battery

550 mAh (Li Ion), 3,7 V

Can be used for 2 bikes
Connectivity

ANT+

BLE

Data retention when batteries are replaced (settings and total values)
Dimension (WxLxH)

50 x 74 x 19 mm

Color display/Number of colors

2

e-bike-ready
Low battery indicator – computer head
Low battery indicator – transmitter
Mount compatibility

GPS Mount

Long Butler GPS

Over Clamp Butler GPS

Programmable based on tire selection
Sensor technology

Cadence

Heart rate

Speed

Smart notifications
Typical battery life

25 hours

Workout statistics

(SIGMA RIDE App)

Water resistant

IPX7
NAVIGATION
| | |
| --- | --- |
| Back to start | Arrow navigation |
| Search & Go Navigation | |
| Turning guidance | |
SENSORS
| | |
| --- | --- |
| Ambient light sensor | |
| Barometric altitude measurement | |
| GLONASS | |
| GPS | |
TRAINING
| | |
| --- | --- |
| Individually adjustable training pages | up to 6 |
| Individually adjustable number of training values per page | 3 |
| Individually adjustable sport profiles | 1 (further sport profiles can be saved in the RIDE app) |
| Pre-installed sport profiles | 1 |
| Templates for training views | 1 |
DATA ANALYSIS
| | |
| --- | --- |
| File format | .fit |
| Memory | up to 100 h of training |
| Share with | Strava, komoot, TrainingPeaks, Facebook, Twitter, and messenger services |
| SIGMA RIDE App | |